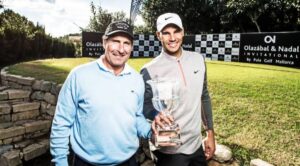 The world number 1 tennis player, Rafa Nadal, and the legendary golfer José María Olazábal will be joining again on 24 and 25 November in Son Servera (Mallorca) to compete in the Olazabal & Nadal Invitational charity golf tournament by Pula Golf Resort.In the event, which this year reaches its fifth edition, both professional golfers and amateurs from around the world will meet, with a single objective: raising funds for the most disadvantaged groups in society.
In this way, through a PRO AM competition, top-level golfers, international chefs and participants from around the world who have decided to participate in this cause, will join Nadal and Olazabal to participate in this sporting event with a strong social character.
The tournament, unique in the world, will take place again in the golf course designed by the Basque golfer, Pula Golf Mallorca, located in a privileged and unique setting of the island.
The best shots on the green will be translated into funds for projects aimed at the most vulnerable population, through the foundations of the two athletes, the Rafa Nadal Foundation (www.fundacionrafanadal.org) and the Sport Mundi Foundation (www.sport-mundi.org) by José María Olazábal.
Specifically, the funds raised this year will be allocated to the work carried out by UNHCR with the refugees through Sport Mundi, while the Rafa Nadal Foundation will allocate the funds to its More Than Tennis project, aimed at young people with intellectual disabilities and which currently has 18 schools throughout Spain.
In the four previous editions, a total of 500,000 euros were raised and allocated to social projects, such as the one carried out at the Rafa Nadal Foundation Center, in Palma de Mallorca, where a supplementary educational project for minors living in disadvantaged situations is being developed; scholarships for families in social exclusion; reception centers through Caritas and initiatives against human trafficking developed by Ayuda en Acción in Nepal, among others.
World renowned chefs will also play a key role in the Olazabal & Nadal Invitational by Pula Golf Resort bringing their culinary creations to a worthy cause.
In this edition, the Majorcan and Galician chefs Macarena de Castro and Luis Veira, both of them Michelin Star awarded, in addition to the well known chef Santi Taura and the German Frank Rosin will lead the culinary side of the tournament.
The Olazábal & Nadal Invitational is possible thanks to the collaboration of the following sponsors: Cap Vermell Estate, Park Hyatt Mallorca, Nike, Guzman Global, AG Middle East, Bator Tabor, Nakheel Landscapes, NCM Network, Aparthotel Baden, Costa Navarino, Sentido Pula Suites Spa & Golf (official hotel) and JFernando Family Wines (official wine). And the collaborating companies Dalrit ,Quesos de Mahón de la familia Mercadal, Cuixot. Productos de Porc Negre Mallorquín, Ferrerico sobrasadas mallorquinas ecológicas, Marabans Coffee and Tea, Fibonacci, Coca-Cola.
Source: El Mundo